GraniteShares FATANG ETP
---
Verfügbar für den Handel London Stock Exchange, Euronext Paris, Borsa Italiana, Deutsche Börse Xetra.
GraniteShares FATANG ETP ist ein besichertes Exchange Traded-Product(ETP). Das ETP bildet, ohne Gebühren und andere Anpassungen, die Wertentwicklung des Solactive FATANG Equal Weight Index NTR ab, bereitzustellen.
Der Solactive FATANG Equal Weight Index NTR bietet Zugang zu Meta Platforms Inc, Alphabet, Amazon, Apple, Tesla Inc, Netflix Inc wobei jede Komponente nach jeder vierteljährlichen Neugewichtung gleich gewichtet wird.
GraniteShares FATANG ETP ÜBERBLICK
ETP ÜBERSICHT
Auflistungsdatum
08 Mar 2021
Indexname
Solactive FATANG Equal Weight Index NTR
TÄGLICHE WERTENTWICKLUNG (AB
11 Oct 2023)
STRUKTUR
Replikationsmethode
Synthetisch
KONTOBERECHTIGUNG UND STEUERSTATUS
WICHTIGE DIENSTLEISTER
Aussteller
GraniteShares Financial Plc
Emissions- und Zahlstelle
The Bank of New York Mellon, Niederlassung London
Sicherheitentreuhänder
BNY Mellon Corporate Trustee Services Ltd
Verwahrer von Swap-Sicherheiten
The Bank of New York Mellon SA/NV
Wirtschaftsprüfer
Grant Thornton
REGISTRIERTE LÄNDER
Zum Vertrieb Zugelassene Länder
BÖRSENHANDELSINFORMATIONEN for GraniteShares FATANG ETP
Börse
Handel
Währung
Ticker
ISIN
SEDOL
WKN
London Stock Exchange
USD
FTNG
XS2693061900
BKPMLY1
London Stock Exchange
EUR
FTNE
XS2693061900
BKPMM04
London Stock Exchange
GBX
FTNP
XS2693061900
BKPMM15
Euronext Paris
EUR
FTNG
XS2693061900
BLDC6C3
Borsa Italiana
EUR
FTNG
XS2693061900
BMBXTG0
Deutsche Börse Xetra
EUR
FATN
XS2693061900
BNTYJR3
A3G8J0
INDEX & WERTENTWICKLUNG of GraniteShares FATANG ETP
INDEX-DETAILS
Indexname
Solactive FATANG Equal Weight Index NTR
Index-Ticker
DE000SL0C5C6
PERFORMANCE (as of
26 Sep 2023

)
Download performance history
View performance chart
| | 1 Month | 3 Months | YTD | 1 Year | 3 Year | Since Inception |
| --- | --- | --- | --- | --- | --- | --- |
SICHERHEITEN GraniteShares FATANG ETP
Collateral Coverage Ratio
100%
Collateral Custodian
The Bank of New York Mellon SA/NV
Understanding Collateral
---
Collateralised ETP Securities are backed with collateral, subject to eligibility criteria, to protect investors in event of default. The amount of collateral posted by the Swap Counterparty is held and valued by an independent custodian in a segregated account and is adjusted daily and reflects the collateralised ETPs' change in value and in the outstanding number of securities. The Bank of New York Mellon SA/NV serves as the Swap Collateral Custodian.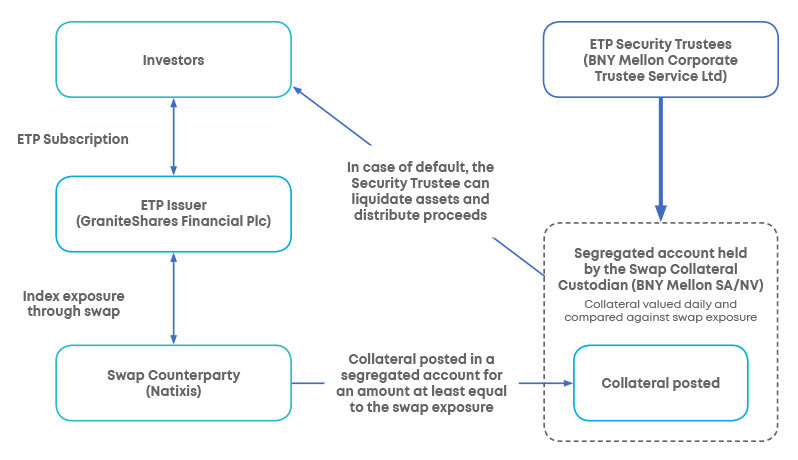 You may also be interested in the following GraniteShares ETPs...