Commoditized Wisdom: Metals & Markets Update (Week Ending June 16, 2023)
Posted: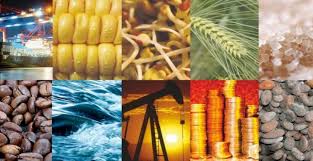 Key points
Energy prices were all higher last week. WTI and Brent crude oil prices increased 2%, gasoline 4% and heating oil 6%. Natural gas and gasoline prices rocketed 16% higher. 
Grain prices were sharply higher. Chicago and Kansas City wheat prices rose 9% and 6%, respectively.  Corn prices jumped 13% higher and soybean prices gained 12%.
Spot gold and silver prices were marginally lower, falling less than ¼ percent. Platinum prices lost 2% while palladium prices increased 7%.
Base metal prices were all higher. Copper and zinc prices rose 3%, lead 4% and nickel prices rose 9%. Aluminum prices were only slightly higher.  
The Bloomberg Commodity Index rose 4.3%. All sectors except the precious metals sector ended the week higher with the energy and grains sectors contributing the most.
More net outflows from commodity ETPs last week, this time mainly from broad commodity and silver ETPs. Agriculture and industrial metals also had smaller but noticeable outflows as well.  Only crude oil ETPs had inflows.   
Commentary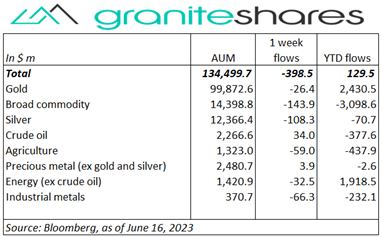 Stock markets charged higher last week with all 3 major stock indexes moving higher every day last week but Friday.  Falling inflation levels as revealed by both CPI and PPI releases last week helped propel stock prices higher last week despite hawkish comments from Fed Chairman Powell increasing expectations of at least 2 more rate hikes.  Market sentiment, nonetheless, seemingly dismissed concerns surrounding those expectations focusing on overall declining inflation, relatively strong economic data (i.e., better-than-expected retail sales, sharply higher consumer sentiment and robust second quarter GDP growth forecasts) and, perhaps, the Fed's concerns regarding regional banks.  The U.S. dollar, too, moved past higher-rate concerns, weakening over 1% during the week while 10-year U.S. Treasury rates were basically unchanged.   For the week, the S&P 500 Index increased 2.6% to 4,409.59, the Nasdaq Composite Index rose 3.3% to 13,689.57, the Dow Jones Industrial Average increased 1.3% to 34,300.76, the 10-year U.S. Treasury rate increased 3bps to 3.77% and the U.S. dollar (as measured by the ICE U.S. Dollar index – DXY) weakened 1.3%.
Sharply lower Monday on Fed rate-hike, rising global inventories and Chinese demand concerns, WTI crude oil prices moved higher the remainder of the week as those concerns diminished and the U.S. dollar weakened.  Oil prices, in particular, benefited from BoC rate cuts and Chinese government fiscal stimulus enacted last week.  Initial concerns surrounding Fed Chair Powell's hawkish comments faded with prices supported by a weaker U.S. dollar and relatively strong U.S. economic data.  Natural gas prices surged 16% with most of those gains occurring Thursday and Friday following lower-than-expected storage builds, hot weather forecasts and markedly higher European prices.
Spot gold prices edged lower last week, falling through Wednesday and then moving higher Thursday and Friday.   Hawkish comments from Fed Chair Powell (and expectations of those comments leading up to Wednesday's FOMC announcement) following an as-expected "no-rate-hike" decision offset lower-than-expected CPI and PPI releases, increasing concerns of higher rates and pressuring gold prices lower.   Those concerns lessened Thursday and Friday with markets seemingly focusing on overall lower inflation levels, relatively strong economic data and, perhaps, Fed regional bank concerns.   Silver prices behaved similarly to gold prices while platinum prices fell over 2%. 
Base metal prices moved higher last week primarily due to Chinese rate cuts and additional fiscal stimulus.  Lower Monday on Fed rate-hike and Chinese demand concerns, copper prices moved higher the remainder of the week, primarily supported by BoC borrowing rate cuts and Chinese government fiscal stimulus.   Relatively strong U.S. economic data combined with a markedly weaker U.S. dollar also supported base metal prices. 
Grain prices were sharply higher last week with corn prices rising the most, climbing over 13%. The primary impetus for the increase was the existence and spreading of drought conditions for corn, soybean and wheat acreage.  Concerns of El Nino-related drought conditions in Australia also supported wheat prices despite price Russian price cutting.
Coming Up This Week
Decent data week highlighted by Fed Chair Powell congressional testimony Wednesday and Thursday. Service and manufacturing PMI index releases Friday.  Housing Starts released Tuesday and Existing Homes Sales Thursday.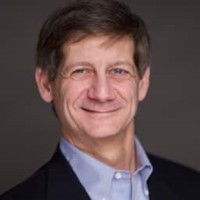 Who is Jeff Klearman in our research team? Jeff has over 20 years experience working as a trader, structurer, marketer and researcher. Most recently, Jeff was the Chief Investment Officer for Rich Investment Services, a company which created, listed and managed ETFs. Prior to Rich Investment Services, Jeff headed the New York Commodities Structuring desk at Deutsche Bank AG. From 2004 to 2007, he headed the marketing and structuring effort for rates based structured products at BNP Paribas in New York. He worked at AIG Financial Products from 1994 to 2004 trading rates-based volatility products as well as marketing and structuring. Jeff received his MBA in Finance from NYU Stern School of Business and his Bachelors of Science in Chemical Engineering from Purdue University.
More Research Related to
COMB