Commoditized Wisdom: Metals & Markets Update (Week Ending March 5, 2021)
Posted: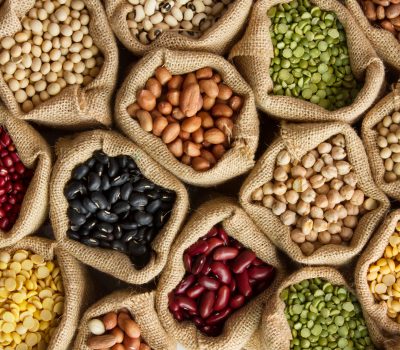 Key points
Energy prices, except again for natural gas prices, were all higher once again last week. WTI and Brent crude oil prices increased 8% and gasoline and heating oil prices increased 6%. Natural gas prices fell 2.5%.
Grain prices were mixed with corn and wheat prices falling and soybean prices increasing.  Wheat prices fell just over 1% and corn prices were slightly lower, falling 0.4%.  Soybean prices increased just under 2%.
Base metal prices were mostly lower with nickel prices plunging and aluminum prices posting the only gain. Nickel prices fell just under 12%, copper prices were down under ½ percent and zinc prices decreased almost 1%.  Nickel prices increased about 1%.
Precious metal prices were all lower. Gold prices were down about 3%, platinum prices fell just under 7% and silver prices lost about 4.5%.
The Bloomberg Commodity Index finished the week up 0.7%. The energy sector powered almost all of the increase with every other sector, except for the grains sector, recording negative returns.
Another week of $2 billion outflows from commodity ETPs predominantly from gold ETPs but also from silver and crude oil ETPs.   Broad commodity ETPs once again saw decent inflows of about $300 million.
Commentary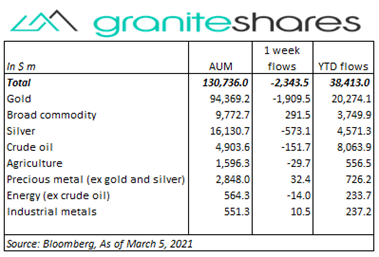 Another volatile week for U.S. equity markets as investors struggled with strong economic data, decreasing Covid-19 infections, increasing vaccinations and rising interest rates.   Tech stocks continued to fare the worst, suffering most from concerns over rising rates, with the Nasdaq Composite Index decreasing last week while the S&P 500 and Dow Jones Industrial Indexes increased.   House passage of the $1.9 trillion stimulus package, approval of J&J's Covid-19 vaccination and stable 10-year Treasury rates powered all three indexes 2% to 3% higher on Monday only to see those gains swept away by increased uncertainty and concerns from a resumption of rising longer-term U.S. Treasury rates spurred by stronger-than-expected economic reports and status-quo comments by Fed Chairman Powell.  All three indexes rallied on Friday after initially falling as 10-year Treasury rates spiked then fell to unchanged on the day following the much better-than-expected release of the Employment Situation report.  The U.S. dollar strengthened last week, reflecting continued market uncertainty with stock market levels.  At week's end the S&P 500 Index increased 0.8% to 3,841.94 the Nasdaq Composite Index fell 2.1% to 12,920.15, the Dow Jones Industrial Average rose 1.8% to 31,496.30, the 10-year U.S. Treasury rate increased 15bps to 1.57% and the U.S. dollar  (as measured by the ICE U.S. Dollar index - DXY) strengthened 1.2%.
Down nearly 3% through Tuesday on weak Chinese economic reports and concerns surrounding the outcome of the later-in-the-week OPEC+ meeting, WTI crude oil prices surged almost 11% the remainder of week following the announcement OPEC+ would maintain March production levels, a much larger-than-expected decline in distillate inventory levels and a stronger-than-expected Employment Situation Report.  WTI and Brent crude oil prices ended the week up 7.7% and both futures contracts continue to trade in backwardation indicating investor concern regarding possible supply shortages relative to prospective demand. 
Down ¾ percent through Wednesday on concerns of increasing U.S. interest rates and a stronger U.S. dollar, Fed Chairman Powell's comments on Thursday  - dismissing rising rates and fears of inflation - moved both the U.S. dollar and U.S 10-year Treasury rates even higher, setting the stage for gold prices to fall below $1700 and settle at their lows for the week.  A stronger-than expected Employment Situation Report on Friday also contributed to lower prices. Silver and platinum prices moved lower with gold and base metal prices.
Nickel prices, unchanged through Tuesday, plunged Wednesday and Thursday following reports of China's Tsingshan Holding Group entering into a contract to supply 100,000 tonnes of nickel.  The contract eliminated existing supply-shortage concerns and sent nickel prices down near 7% on both Wednesday and Thursday.   Aluminum prices ended the week about 1% higher, increasing mainly on falling LME inventory levels. 
Concerns of weak export demand and a stronger U.S. dollar helped move grain prices lower through Wednesday.  Thursday's USDA report showing weaker-than-expected export sales confirmed concerns and pushed grain prices to their week's low.  Corn and soybean prices, reacting to concerns of adverse South American weather affecting harvesting, pushed prices significantly higher on Friday with corn prices increasing almost 2.5% and soybean prices gaining 1.4%.
Coming up this week    
A very light data week with CPI and PPI releases
CPI on Wednesday.
Jobless claims on Thursday.
PPI and consumer sentiment on Friday.
EIA petroleum status report on Wednesday and Baker-Hughes rig count on Friday.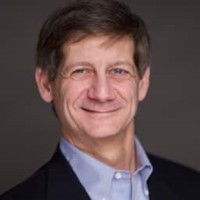 Who is Jeff Klearman in our research team? Jeff has over 20 years experience working as a trader, structurer, marketer and researcher. Most recently, Jeff was the Chief Investment Officer for Rich Investment Services, a company which created, listed and managed ETFs. Prior to Rich Investment Services, Jeff headed the New York Commodities Structuring desk at Deutsche Bank AG. From 2004 to 2007, he headed the marketing and structuring effort for rates based structured products at BNP Paribas in New York. He worked at AIG Financial Products from 1994 to 2004 trading rates-based volatility products as well as marketing and structuring. Jeff received his MBA in Finance from NYU Stern School of Business and his Bachelors of Science in Chemical Engineering from Purdue University.
More Research Related to
COMB